August 17th, 2019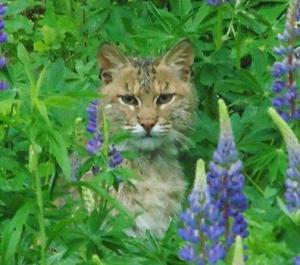 Announcing the NEW Forest Animals Collection on AEFraser.com as well as a NEW Forest Animals board on Pinterest! At the moment these two galleries contain separate selections of my favorite wild animal images so make sure you stop by to see BOTH! Collection Description: Photographs by Amy E. Fraser. The wildlife is not as wild as you think, at least not when you live in a Magical Forest! These amazing woodland creatures were all photographed by the artist in her backyard, an extraordinary mountainside wildflower meadow located deep in the lush green forest of the beautiful state of New Hampshire. The AEFraser.com collection contains images for Fine Art Prints and Merchandise. The Pinterest Forest Animals collection currently showcases your favorite wild animal adventures previously featured on the Exalted Beauty Blog. More great Forest Animal photos are coming to both collections very soon! I've spent the past few months mastering my new camera and I have some adorable new animal photos to share as a result. I can't wait for you to see them! But in the meantime, please feel free to enjoy the Forest Animals Collection on AEFraser.com and my Forest Animals board on Pinterest! Here's a sneak peek at the soon to go viral pins on Pinterest! Want to see? Click the link or go to: https://aefraserart.blogspot.com/2019/08/forest-animals.html
August 15th, 2019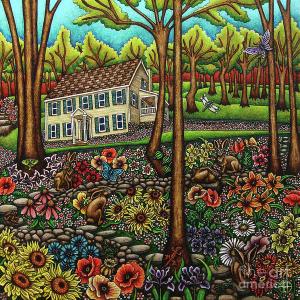 Hello Everyone!
I'm super excited to announce that I bought the domain name for The Legend of Hare Terra last night! For those of you not familiar with my story, I started The Legend of Hare Terra series back in 2009. I began The Legend of Hare Terra right after I had introduced my beloved Hares at my AVA Gallery "Wildflower Meadow" Exhibition. They first made their appearance in my painting series "Meadow Tales". I am thrilled to say that they were extremely well received. Good thing, because it was already too late, I was obsessed! 10 years later... Okay, so I didn't work on the series the entire time, but I did step away from the art scene to concentrate on what I hope will prove to be an epic art *experience*. The end goal of the project evolved and changed numerous times over the last decade and eventually The Legend of Hare Terra grew into a collection of over 300 individual art pieces! OMG, right? Soooo, what does one do with a giant body of art dedicated to one subject? Way too long for a book! So yesterday, totally on a whim, I thought why not just go ahead and make a website and see what happens? So completely against character for me! I posted my first (very rough) version today. I invite you to join me in this creative journey at The Legend of Hare Terra. Wish me luck! Follow the link to look at some of the origin paintings from the series "Meadow Tales" and to get the first look at my new web project dedicated to The Legend of Hare Terra.


August 13th, 2019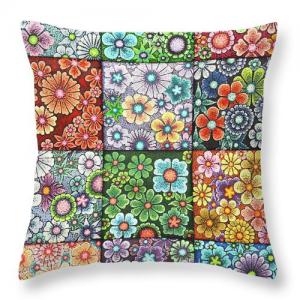 Hello! Wanted to pop in for a quick Hi! And let you know I put up "the Collection of Collections" on AEFraser.com. I've compiled fabulous group displays from some of my drawing, painting and photography series. So if you are into panels, tiles, mosaics, collages, grids, art sets or patchwork, go check out my NEW Patchwork Panel Sets. They make excellent Home Decor and Lifestyle Accessories! Go to the the link to see fun examples: https://aefraserart.blogspot.com/2019/08/new-patchwork-panels.html
July 21st, 2019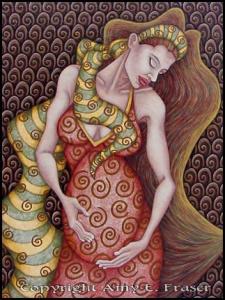 Discover 55 Amy E. Fraser paintings NOT featured on the Official AEFraser website! What are these mystifying and possibly forbidden images you ask? Well... let me tell you. They are paintings inspired by the world's most powerful and mysterious subject of all, Women. If you weren't scared off by that cheesy promo and still want to see these "secret paintings" visit Womankind by Amy E. Fraser on Pinterest.
Need a sneak preview before entering the dark cave of Femininity?
Go To: https://aefraserart.blogspot.com/2019/07/discover-secret-paintings.html
Thanks so much for playing along! Enjoy!
July 18th, 2019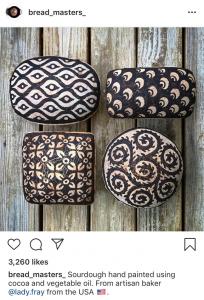 Well, maybe not exactly World Famous! But I was delighted to learn that my work was featured on Bread Masters again! Yay! Thank you Bread Masters!
Sourdough. Geometric Patterns. By Amy E. Fraser
Click the link to read the rest of the World Famous! post: https://aefraserart.blogspot.com/2019/07/world-famous.html

July 16th, 2019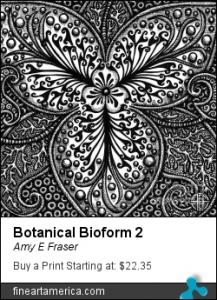 We just finished watching National Geographic's miniseries "The Hot Zone". It was really well done. I read the book when it came out and it certainly did a number on my already obsessive germ phobia. However, that said, every time they showed a close up of the Ebola Virus I ooohhhed and ahhhed! I can't help myself! I am completely fascinated by microscopic images and a huge fan Ernst Hackel's "Art Forms In Nature". To celebrate my passion for microorganisms I created Botanical Bioforms, a series of detailed pen and ink drawings illustrating imaginary organisms.
Click the link to see the complete post: https://aefraserart.blogspot.com/2019/07/the-hot-zone.html
July 15th, 2019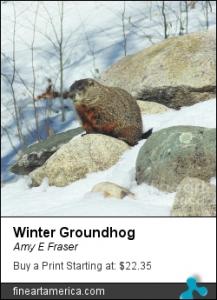 Meet Griselda Groundhog, Fine Art America's Top Model! Just kidding, she's actually my Top Model. This pretty lady was the first sale on the new and improved AEFraser.com:
Winter Groundhog by Amy E. Fraser
Thank you New Jersey! Excellent choice! Griselda and I appreciate your great taste. We'd like to mention that she has other work available for your collection, like this majestic pose with wild purple lupine:
Watchful Groundhog by Amy E. Fraser
Or this super adorable pen and ink portrait:
Woodchuck by Amy E. Fraser
Griselda Groundhog was so elated with her title as Top Model she wanted me to share this candid of her big cheesy smile:
Obviously Griselda has to stay on brand when in super model mode, but wanted her fans to know that she's not always all business.
Click the link to see the complete post: https://aefraserart.blogspot.com/2019/07/top-model.html
Thanks for stopping by!
July 14th, 2019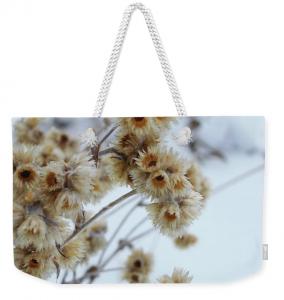 Hello!
Wondering if it's still me? Yes. On January 1st I spontaneously acted upon a New Years resolution to Start Fresh! I accidentally deleted the Exalted Beauty blog. Yeah, you know what I'm talking about. New Year, New You! It happened. I was so enthusiastic about starting my AEFraser.com website from scratch that I didn't think through the consequences of deleting the old website! I lost over 1,500 Exalted Beauty blog posts! The horror!

You know what I was most upset about? My Flowers! As therapy I decided to go through over a decade of my original meadow photographs (approximately 40,000 images). So I "narrowed it down" and decided to rescue my top 1,000 or so! Hilarious right? Well, I love my flowers, what can I say?

Anyway! You will be very excited to discover that my favorite pictures are back! Yup! Organized and ready for your viewing pleasure. Visit the Woodland Wildflower gallery to experience a peaceful moment in the meadow. Listen to birds sing, the soothing drone of bees, smell the heady scent of thousands of beautiful fresh flowers in bloom, feel the light summer breeze in your hair and the warm sun on your face. Enjoy!

And OMG! I can't even deal. The wildflower photos make the most amazing throw pillows and tote bags. Imagine the possibilities!




May 29th, 2019
Welcome to the New and Improved AEFraser.com!

Who is Amy E. Fraser?

Some of you know me as the Exalted Beauty Medallion Lady or as a Floral Painter or New Hampshire Wildflower Photographer. Others more recently have gotten to know me as the Sourdough Bread Baker, Painter, Scoring Artist and Nature Enthusiast @lady.fray on Instagram, and have appreciated my pen and ink drawings @lady.fray.doodles and my paintings @lady.fray.paints. I answer to all aspects of the above and am working toward combining these diverse creative interests into one succinct hub at AEFraser.com.

What does this New and Improved AEFraser.com have to offer?

I am thrilled to announce that I have partnered with Fine Art America and currently offer a large selection of my works Print On Demand! Hundreds of print ready original Paintings, Pen and Ink Drawings and Nature Photography are now exclusively available on AEFraser.com! This includes high quality prints on paper, canvas, wood or metal, as well as a wide range of exciting new merchandise like throw pillows, totes, tees, shower curtains and so much more!

Thanks so much for stopping by!
Enjoy!

Amy