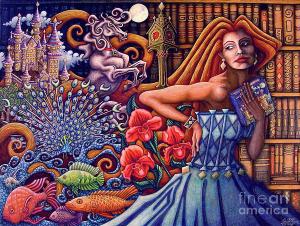 Here is a description of my Materials and Methods from 2004:
The paintings shown on AEFraser.com are accomplished with Acrylic Paint on Masonite. I use a unique, time-consuming paint process to create my signature painting style. On average, I put 100 or more hours into each image from the time of conception to completion, regardless of the final painting size.
I begin with a sketch that I often rework with use of a computer. Once the drawing process is complete, the image is transferred to a comparably shaped Masonite board. Each Masonite board is prepared with three or more coats of gesso, protecting the final image from chemicals used in the board's production. The under painting begins with solid areas of color and line work in opaque acrylic paint. At this point, I begin to form an idea of where I am going to go with color. Paper and pour polyurethane are sometimes included in the under painting process. The luminous effect seen in my paintings is created by applying dozens of individual layers of acrylic glaze over solid layers of base color. Each layer of glaze must dry before the next can be applied to assure the color's purity. Our eyes mix the colors to create hues, with an added benefit of the color changing in various types of light. Because of this layering process, the image surface has both physical and visual depth. I premix all of the glaze colors before I start a painting and store them in separate containers. I do not use a traditional artists palette or butcher pan for my paints. I use a wide range of brush shapes and brush sizes in addition to various sponges and rollers. The brilliant, luminescent colors are created by layering individual transparent colors one at a time on top of one other. The more layers, the deeper, darker or more intense the shade becomes. Each painting is completed with a layer of matte finish to reduce the glare of the glazes, making the image easier to see from any angle as well as easier to photograph.
Why have I shared the secrets of my "Materials and Methods"? I want people who purchase a painting to be assured of the high quality of work, time and material that goes into each unique piece. Secondly, the question of how my works are created is frequently asked and I see no real reason not to answer it. Many artists fear that revealing their 'secret' painting techniques will inspire copy artists to recreate their work. I am not concerned with that particular issue, as I tend to believe that most people would not be willing to devote the time and effort that my technique requires.