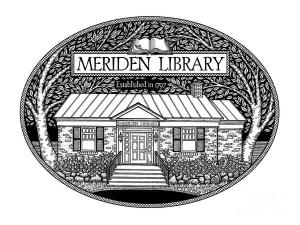 The Meriden Library Logo by Amy E. Fraser. This stylishly whimsical black and white pen and ink drawing was created exclusively for the Meriden Library by Amy E. Fraser. This is an illustrative rendition of the current 1965 brick library building and its signature birch trees. This image has been the Meriden Library's official logo design since 2010. Amy and her family are enthusiastic supporters of their local treasure and will continue their generosity by donating 100% of the profits from sales of this image on prints and merchandise in support of the Meriden Library.
About the Meriden Library: The New Hampshire legislature approved a petition from Daniel Kimball and other villagers to incorporate a library in Meriden Village on December 11, 1797. Various village homes were used to house the library until 1815 when Kimball Union Academy offered space in their new building. That building was destroyed by fire in 1824. A new collection of books was assembled on the first floor of the Congregational Meeting House in Meriden. When fire destroyed the church, the library books were saved and moved to the home of Marion Eastman where they stayed until the Meriden Town Hall was built in 1896 with space set aside for the library. The Brown School, located west of the town hall, housed the library from 1911 - 1965. The current library was built on a parcel of land located next to the Meriden Grange and was dedicated on November 20, 1965.
To learn more about the Meriden Library go to meridennhlibrary.org. Or stop in to borrow a book and visit the amazing staff; Library Director Mary King and Library Assistants Terri Crane and Lori Estey.
The Meriden Library Logo was hand drawn in pen and ink by Amy E. Fraser. All images copyright Amy E. Fraser. All rights reserved. For more Amy E. Fraser art and information go to Aefraser.com.