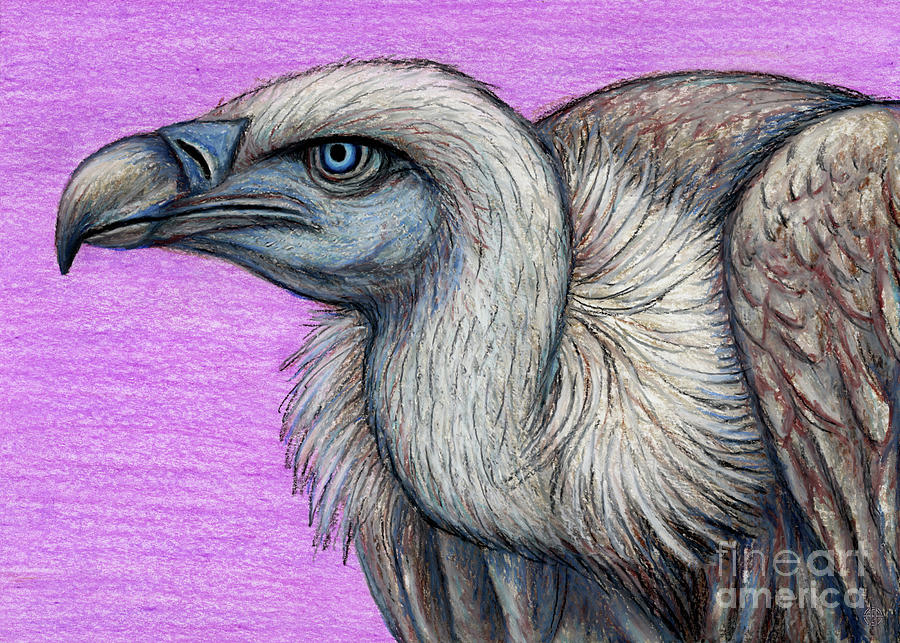 Title
Ruppell's Blue Eyed Griffon Vulture
Medium
Painting - Oil Pastel On Paper
Description
Rüppell's Blue Eyed Griffon Vulture by Amy E. Fraser. This is an expressive vulture portrait in shades of gray, brown and blue with penetrating blue eyes complimented with a medium orchid purple textural background.

Griffon vultures are a species of Old World vulture found across Europe, Asia and Africa. Rüppell's vulture (Gyps rueppelli), also called Rüppell's griffon vulture, named after Eduard Rüppell, is a large bird of prey, mainly native to the Sahel region and East Africa. Rüppell's griffon vultures are large African vultures, growing between 33 to 38 inches in height, with an astounding 8 foot wingspan. Males and females feature similar coloration — brown or black overall, with a white underbelly, thin fluff covering the head and neck and a white collar. Their neck is bare of feathers, this is an important adaptation as these animals are carnivores which primarily scavenge for carcasses of deceased animals to consume. They have exceptionally powerful, pale beaks. The eyes are normally amber to yellow in color, however in this rendition the artist chose blue instead of the natural eye color to depict this magnificent bird. The lifespan for Rüppell's griffon vultures is thought to be up to 40 to 50 years.

Amy E. Fraser's Oil Pastel Animal Portrait series is an impassioned tribute to the beauty and magic of our beloved Animal Kingdom. Fun, gestural and energetic, these vibrant animals are painted in a stylized realism that is imbued with distinctive character and personality.

Rüppell's Blue Eyed Griffon Vulture by Amy E. Fraser. Animal Portrait Paintings created from the artist's intense connection to and love for all creatures great and small. Oil Pastel on archival paper. All images copyright Amy E. Fraser. All rights reserved.
Uploaded
April 22nd, 2022
Statistics
Viewed 206 Times - Last Visitor from New York, NY on 02/08/2023 at 5:03 AM